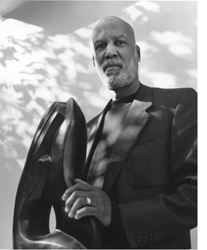 Terrence Roberts
Thursday, May 19
06:45 - 08:30 PM
Opening Roundtable
The Long Struggle for Civil Rights and Black Freedom
Terrence James Roberts was one of the Little Rock Nine, a group of African-American students who, in 1957, were the first black students ever to attend classes at Little Rock Central High School in Little Rock, Arkansas. In 1999, he and the other people of the Little Rock Nine were awarded the Congressional Gold Medal by President Bill Clinton. On September 4, 1957, Roberts and eight other African American students (known as the Little Rock Nine) made an unsuccessful attempt to enter Little Rock Central High School. Despite the presence of the National Guard, an angry mob of about 400 surrounded the school.
The National Guard was removed with the protection of the students left to the local police. On September 23, 1957, a mob of about 1000 people surrounded the school as the students attempted to enter. The following day, President Dwight D. Eisenhower sent U.S. Army troops to accompany the students to school for protection. The troops were stationed at the school for the entirety of the school year, although they were unable to prevent incidents of violence inside.
As a result of the subsequent closing of Little Rock's high schools during the 1958-1959 school year, Roberts completed his senior year in Los Angeles, California.
Roberts continued his education at California State University, Los Angeles and graduated with a Bachelor of Arts degree in sociology in 1967. He received his Master's degree in social welfare from the UCLA School of Social Welfare in 1970, and his Ph.D. in psychology from Southern Illinois University, Carbondale, in 1976.
From 1975 to 1977 he was a member of the faculty at Pacific Union College, a private liberal arts college in Napa Valley, California.
From 1977 to 1985 Roberts was Director of Mental Health at St. Helena Hospital and Health Center.
From 1985 to 1993 he was assistant dean in the UCLA School of Social Welfare.
Roberts joined the Antioch University Los Angeles in 1993 and served as core faculty and co-chair of the Master of Arts in Psychology program until 2008. He is currently Principal of the management-consulting firm, Terrence Roberts Consulting.
AFFILIATION: Terrence Roberts Consulting