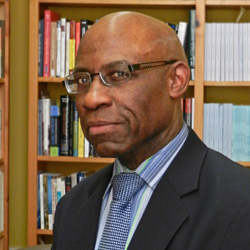 Joe William Trotter Jr.
Friday, May 20
01:40 - 03:25 PM
Session 3
Race, Power, and Urban Spaces
Joe William Trotter, Jr. is Giant Eagle Professor of History and Social Justice and past History Department Chair at Carnegie Mellon University. He is also the founder and director of Carnegie Mellon's Center for Africanamerican Urban Studies and the Economy (CAUSE) and is a past president of the Labor and Working Class History Association. Professor Trotter is the author or coauthor of a broad range of books, scholarly articles, and edited collections and anthologies on African American and U.S. urban, labor, and working class history. His publications include Black Milwaukee: The Making of an Industrial Proletariat, 1915-45 (1985, new edition 2007); Coal, Class, and Color: Blacks in Southern West Virginia, 1915-32 (1990); River Jordan: African American Urban Life in the Ohio Valley (1998); a two-volume textbook, The African American Experience (2001); Race and Renaissance: African Americans in Pittsburgh since World War II (with Jared Day, 2010); and African American Urban History (edited with Kenneth Kusmer, 2009). He is currently working on a synthesis of the African American urban experience from the transatlantic slave trade to recent times.
*Since the NEH was founded, the agency has awarded more than $171 million to nearly three thousand projects on African American history and culture. Trotter has been a recipient of NEH funding.
AFFILIATION: Carnegie Mellon University