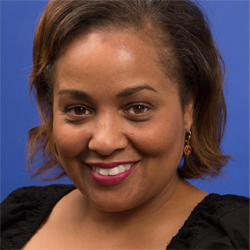 Mary N. Elliott
Friday, May 20
01:40 - 03:25 PM
Session 3
Race, Power, and Urban Spaces
Mary Elliott, a Museum Specialist at the Smithsonian's National Museum of African American History and Culture, has helped research, conceptualize and design the "Slavery and Freedom" inaugural exhibition. She contributed to the exhibition script, consulted with expert scholars, and identified and secured collection donations including the antebellum slave cabin that will be featured in the museum.
A graduate of Howard University and the Catholic University of America's Columbus School of Law, Mary helped produce local history exhibits in the Washington, D.C.. area and produced several public history programs. She served as a contractor and consultant to various organizations including the National Visionary Leadership Project, Association for the Study of African American Life and History, Reginald Lewis Museum of Maryland African American History and the Humanities Council of Washington, D.C.
She has over twenty years of experience in researching and presenting African American history and culture. Her personal research focuses on African Americans from antebellum slavery through the Jim Crow Era, with a specific concentration on migration and community development. Her research has taken her to Virginia, South Carolina, Louisiana, Mississippi, and Oklahoma, covering subject matter including slavery and freedom in America, Reconstruction, the all-Black towns of Oklahoma and the National Negro Business League.
AFFILIATION: National Museum of African American History and Culture