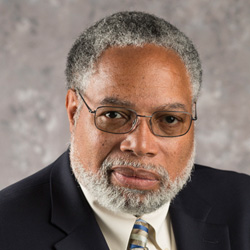 Lonnie G. Bunch III
Saturday, May 21
01:40 - 03:25 PM
Session 7
History, Preservation, and Public Reckoning in Museums
Lonnie G. Bunch, III is the founding director of the Smithsonian's National Museum of African American History and Culture. Prior to his appointment, Bunch served as the president of the Chicago Historical Society (2001-2005) and held several positions at the Smithsonian, including Associate Director for Curatorial Affairs (1994-2000) and supervising curator (1989-1992) at the National Museum of American History (NMAH).
Bunch has written on topics ranging from slavery to diversity in museum management and the impact of funding and politics on American museums. In 2010, he published the award-winning book Call the Lost Dream Back: Essays on Race, History and Museums. His most recent book, Memories of the Enslaved: Voices from the Slave Narratives, was published in 2015. Since 2008, Bunch has served as the series co-editor of the "New Public Scholarship Edition" of the University of Michigan Press.
Bunch has served on the advisory boards of the American Association of Museums, the African American Association of Museums, the American Association of State and Local History, and the ICOM-US. He was appointed by President George W. Bush to the Commission for the Preservation of the White House in 2002 and reappointed by President Barack Obama in 2009. In 2005, he was named one of the 100 most influential museum professionals in the 20th century by the American Association of Museums. In 2014, BET selected Bunch as one of its ICON Men for his work mentoring young African American men.
Bunch received undergraduate and graduate degrees from American University in Washington, D.C. in African American and American history. He has held numerous teaching positions across the country, including American University (1978-1979); University of Massachusetts, Dartmouth (1979-1981); and George Washington University (1989-2000).
AFFILIATION: National Museum of African American History and Culture