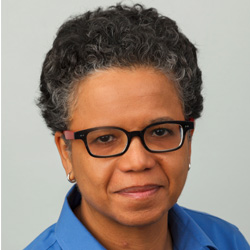 Judith Weisenfeld
Saturday, May 21
08:35 - 10:20 AM
Session 5
What is African American Religion?
Judith Weisenfeld is the Agate Brown and George L. Collord Professor of Religion at Princeton University. A specialist in early twentieth-century African American religious history, her teaching and research focus on African American women's religious history, religion and in film and popular culture, and religion and constructions of race. She is the author of New World A-Coming: Black Religion and Racial Identity During the Great Migration (NYU, forthcoming 2016), Hollywood Be Thy Name: African American Religion in American Film, 1929-1949 (California, 2007) and African American Women and Christian Activism: New York's Black YWCA, 1905-1945 (Harvard 1997). She is co-editor, which Richard Newman, of This Far By Faith: Readings in African American Women's Religious Biography (Routledge, 1995) and a co-author of The History of the Riverside Church in the City of New York (NYU, 2004).
*Since the NEH was founded, the agency has awarded more than $171 million to nearly three thousand projects on African American history and culture. Weisenfeld has been a recipient of NEH funding.
AFFILIATION: Princeton University