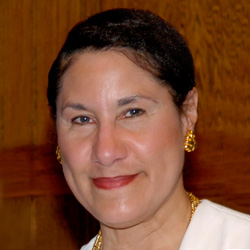 Evelyn Brooks Higginbotham
Saturday, May 21
08:35 - 10:20 AM
Session 5
What is African American Religion?
Evelyn Brooks Higginbotham is the Victor S. Thomas Professor of History and of African and African American Studies at Harvard University. She became the national president of the Association for the Study of African American Life and History in January 2016. Higginbotham began her teaching career as a public school teacher before moving to the university setting. She has also taught on the faculties of Dartmouth College, the University of Maryland, and the University of Pennsylvania. At the special invitation of Duke University, she taught at the Duke Law School in 2010-2011 as the inaugural John Hope Franklin Professor of American Legal History.
Higginbotham earned her Ph.D. from the University of Rochester in American History, her M.A. from Howard University, and her B.A. from the University of Wisconsin-Milwaukee. A pioneering scholar in African American women's history, she is the author of the prizewinning book Righteous Discontent: The Women's Movement in the Black Baptist Church 1880-1920. She is also co-editor with Henry Louis Gates, Jr., of the African American National Biography, now in its second edition (2013).
Higginbotham is the recipient of numerous awards and honors. Most notably in September 2015 she received the National Humanities Medal from President Barack Obama at the White House for "illuminating the African American journey." In March 2015 she was named one of the "Top 25 Women in Higher Education" by Diverse Magazine.
*Since the NEH was founded, the agency has awarded more than $171 million to nearly three thousand projects on African American history and culture. Higginbotham has been a recipient of NEH funding.
AFFILIATION: Harvard University