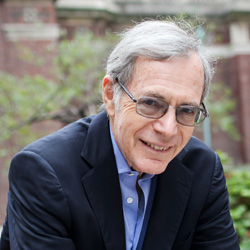 Eric Foner
Friday, May 20
10:35 - 12:20 PM
Session 2
Slavery and Freedom
Eric Foner, DeWitt Clinton Professor of History at Columbia University, is one of the most prominent historians in the United States. He is one of only two persons to serve as president of the three major professional organizations: the American Historical Association, Organization of American Historians, and Society of American Historians.
Professor Foner is the author or editor of over twenty books. His publications have concentrated on the intersections of intellectual, political and social history and the history of American race relations. His book, The Fiery Trial: Abraham Lincoln and American Slavery (2010), was awarded the Bancroft Prize, Pulitzer Prize for History, and the Lincoln Prize. His most recent book is Gateway to Freedom: The Hidden History of the Underground Railroad (2015). He is also a recipient of the Presidential Award for Outstanding Teaching from Columbia University. As co-curator of two award-winning historical exhibitions, and through frequent appearances in newspapers and magazines and on radio and television discussion programs, he has also endeavored to bring historical knowledge to a broad public outside the university.
*Since the NEH was founded, the agency has awarded more than $171 million to nearly three thousand projects on African American history and culture. Foner has been a recipient of NEH funding.
AFFILIATION: Columbia University