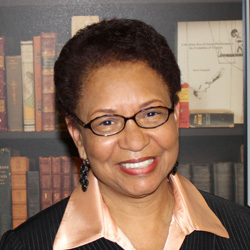 Edna Greene Medford
Saturday, May 21
08:35 - 10:20 AM
Session 5
What is African American Religion?
Edna Greene Medford is Chairperson and Professor of History at Howard University, where she specializes in 19th century United States history, with an emphasis on slavery, the Civil War and Reconstruction. Dr. Medford's publications include: Lincoln and Emancipation (2015), The Emancipation Proclamation: Three Views (co-authored with Harold Holzer and Frank Williams, 2006), and she is the editor of Historical Perspectives of the African Burial Ground: New York Blacks and the Diaspora, volume 3 of The New York African Burial Ground: Unearthing the African Presence in Colonial New York (2009).
Dr. Medford serves on several professional boards. She is a member of the Executive Council of the Association for the Study of African American Life and History, a member of the Abraham Lincoln Bicentennial Foundation, an Executive Committee member of the Lincoln Forum, and serves on the boards of the Abraham Lincoln Association, the Abraham Lincoln Institute, and the Ulysses S. Grant Association.
*Since the NEH was founded, the agency has awarded more than $171 million to nearly three thousand projects on African American history and culture. Medford has been a recipient of NEH funding.
AFFILIATION: Howard University