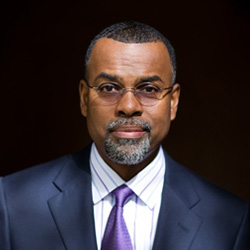 Eddie S. Glaude, Jr.
Saturday, May 21
08:35 - 10:20 AM
Session 5
What is African American Religion?
Eddie S. Glaude, Jr. is currently the Chair for the Department of African American Studies and the William S. Tod Professor of Religion and African American Studies at Princeton University. He is the author of Exodus: Religion, Race, and Nation in Early 19th Century Black America (Chicago, 2000), winner of the William Sanders Scarborough Book Prize, In a Shade of Blue: Pragmatism and the Politics of Black America (Chicago, 2007), and African American Religion: A Very Short Introduction (Oxford, 2014). He is the editor of Is it Nation Time? Contemporary Essays on Black Power and Black Nationalism (Chicago, 2002) and co-editor with Cornel West of African American Religious Thought: An Anthology (Westminster John Knox, 2003). Democracy in Black: How Race Still Governs the Soul of America (Crown Publishing, 2016) is his latest book, a provocative account of the current state of race in the United States.
Glaude brings to his scholarship and public service a sense of passion and vocation shaped by the tradition of African American struggle. His scholarship and his sense of himself as an intellectual are driven by a commitment to think carefully with others in public.
AFFILIATION: Princeton University