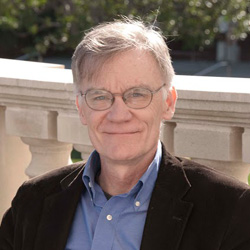 David W. Blight
Saturday, May 21
01:40 - 03:25 PM
Session 7
History, Preservation, and Public Reckoning in Museums
David W. Blight is Class of 1954 Professor of American History and Director of the Gilder Lehrman Center for the Study of Slavery, Resistance, and Abolition at Yale University. He previously taught at Amherst College for thirteen years and for seven years was a public high school teacher in his hometown, Flint, MI. Blight's newest books include annotated editions, with introductory essay, of Frederick Douglass's second autobiography, My Bondage and My Freedom (Yale Univ. Press, 2013), Robert Penn Warren's Who Speaks for the Negro, (Yale Univ. Press, 2014), and the monograph, American Oracle: The Civil War in the Civil Rights Era (Harvard University Press, 2011), which received the 2012 Anisfield-Wolf Award for best book in non-fiction on racism and human diversity. He is currently writing a full biography of Frederick Douglass that will be published by Simon and Schuster in 2016.
Blight was elected as a member of the Society of American Historians in 2002, and served as that Society's President in 2013-14. In 2012, Blight was elected to the American Academy of Arts and Sciences. He has received honorary doctorate degrees from Transylvania University (2011), Bowdoin College (2013), and Dominican College, Orangeburg, N.Y., (2015). In 2009, Blight chaired the jury for non-fiction for the National Book Award.
*Since the NEH was founded, the agency has awarded more than $171 million to nearly three thousand projects on African American history and culture. Blight has been a recipient of NEH funding.
AFFILIATION: Yale University