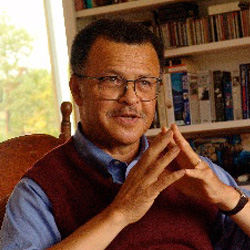 David Levering Lewis
Saturday, May 21
10:35 - 12:20 PM
Session 6
Internationalization of African American Politics and Culture
David Levering Lewis's field is comparative history with special focus on 20th-century US social history, imperialism in 19th -century Africa, 20th-century France, and Muslim Iberia. He has written nine books and compiled several editions. W.E.B. Du Bois: Biography of a Race, 1868-1919 (1993) received in 1994, respectively, the Bancroft Prize in American History, the Francis Parkman Prize, and the Pulitzer Prize for Biography.
Lewis has received fellowships from the Center for Advanced Study in the Behavioral Sciences, the National Endowment for the Humanities, the Woodrow Wilson International Center for Scholars (twice), the John Simon Guggenheim Foundation, the John D. and Catharine T. MacArthur Foundation, and the American Academy in Berlin. He is a fellow of the American Academy of Arts & Sciences, the American Philosophical Society, former trustee of the National Humanities Center, former commissioner of the National Portrait Gallery, former senator of the Phi Beta Kappa Society, and former president of the Society of American Historians. He was awarded the 2010 National Humanities Medal by President Barack Obama at the White House. Mr. Lewis retired from New York University in August 2013 as Julius Silver University University Professor and Professor of History Emeritus. On May 11, 2015 he received the Arthur Meier Schlesinger, Jr., Distinguished Service Prize from the Society of American Historians. On May 20, 2015, he was awarded an Honorary Doctorate of Humane Letters, Honoris Causa, from Columbia University.
*Since the NEH was founded, the agency has awarded more than $171 million to nearly three thousand projects on African American history and culture. Lewis has been a recipient of NEH funding.
AFFILIATION: New York University