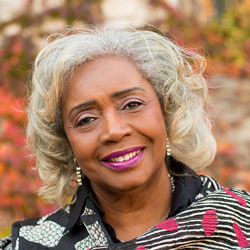 Darlene Clark Hine
Saturday, May 21
03:45 - 05:30 PM
Session 8
African American History as American History
Darlene Clark Hine is a historian of the African American experience. She helped found the field of Black Women's History. Hine is a 2015 National Women's History Month Honoree. On July 28, 2014, President Barack Obama honored Hine with a 2013 National Humanities Medal for her contributions in Black Women's History and pioneering study of the intersection of race, class, and gender. Hine is past president of the Organization of American Historians (2001-2002) and of the Southern Historical Association (2002-2003). She was inducted into the American Academy of Arts and Sciences in October 2006.
She is Board of Trustees Professor of African American Studies and History at Northwestern University (2004 to present). Her numerous publications include Black Victory: The Rise and Fall of the White Primary in Texas (1979, 2nd ed., 2003); Black Women in White: Racial Conflict and Cooperation in the Nursing Profession, 1890–1950 (1989); co-author of The African-American Odyssey (7th ed., 2016) and co-editor of several anthologies and encyclopedias: Black Women in America: An Historical Encyclopedia (1993); More Than Chattel: Black Women and Slavery in the Americas (1996); A Question of Manhood: A Reader in U.S. Black Men's History and Masculinity (1999), and The Black Chicago Renaissance (2012).
*Since the NEH was founded, the agency has awarded more than $171 million to nearly three thousand projects on African American history and culture. Hine has been a recipient of NEH funding.
AFFILIATION: Northwestern University