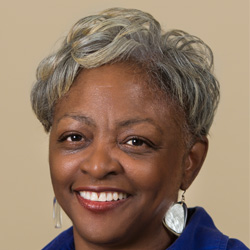 Carol Anderson
Saturday, May 21
10:35 - 12:20 PM
Session 6
Internationalization of African American Politics and Culture
Carol Anderson is the Samuel Candler Dobbs Professor of African American Studies at Emory University. She is the author of Eyes Off the Prize: The United Nations and the African-American Struggle for Human Rights, 1944-1955, published by Cambridge University Press and awarded both the Gustavus Myers and Myrna Bernath Book Awards. In her second book, Bourgeois Radicals: The NAACP and the Struggle for Colonial Liberation, 1941-1960, also published by Cambridge, Professor Anderson has uncovered the long-hidden and important role of the nation's most powerful civil rights organization in the fight for the liberation of peoples of color in Africa and Asia. Her most recent publication is White Rage: The Unspoken Truth of our Racial Divide (Bloomsbury, 2016).
An award-winning teacher, her research has also garnered substantial fellowships and grants from ACLS, the Ford Foundation, National Humanities Center, and Harvard University's Charles Warren Center.
She has also served on working groups dealing with race and minority rights at Stanford's Center for Applied Science and Behavioral Studies, the Aspen Institute, and the United Nations. Her Washington Post op-ed on Ferguson was the most shared for the newspaper in 2014.
She earned her Ph.D. in history from The Ohio State University.
AFFILIATION: Emory University