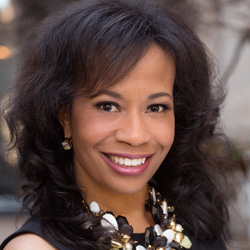 Allyson Hobbs
Friday, May 20
08:35 - 10:20 AM
Session 1
Who Is Black America?
Allyson Hobbs is an Assistant Professor in the History Department at Stanford University. She graduated magna cum laude from Harvard University and she received a Ph.D. with distinction from the University of Chicago.
Allyson's first book, A Chosen Exile: A History of Racial Passing in American Life (2014), examines the phenomenon of racial passing in the United States from the late eighteenth century to the present. A Chosen Exile won two prizes for best first book in American history and best book in American cultural history. The book was selected as a New York Times Book Review Editor's Choice, a "Best Book of 2014" by the San Francisco Chronicle, and a "Book of the Week" by the Times Higher Education in London. The Root named A Chosen Exile as one of the "Best 15 Nonfiction Books by Black Authors in 2014."
Allyson teaches courses on American identity and African American history. She has won teaching awards including the Phi Beta Kappa Teaching Prize, the Graves Award in the Humanities, and the St. Clair Drake Teaching Award.
Allyson is a contributing writer for the New Yorker.com. Her work has been featured on cnn.com, slate.com, and in the New York Times.
AFFILIATION: Stanford University